Well, we mailed them on Saturday (Valentine's Day!) so people started getting them today! It's so fun to hear people's comments. Traci called me at work as soon as she got hers. My mom emailed me. Aaron's sister Alice-Anne left me a message on facebook.

Ok I took photos. I actually had to make another b/c they're all sealed. Haha.

Here is the envelope with its (blank!) letterpressed label. I wrote the addresses on all pretty-like. Yeehaw.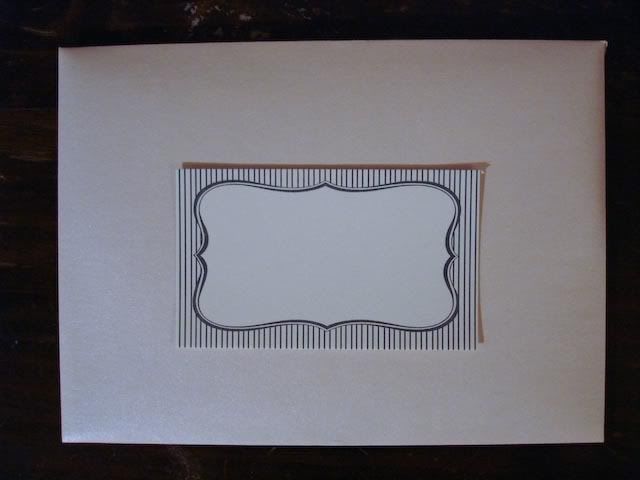 Closeup of the label. The etsy sellers was shopheartsandanchors, Sarah, and she was a doll.



So then you pull it out of the envelope. The envelopes are stardream "coral" but it looks like pale pink. I wanted the euro flap, but I am starting to LET THINGS GO. You'll see another thing I let go in a second.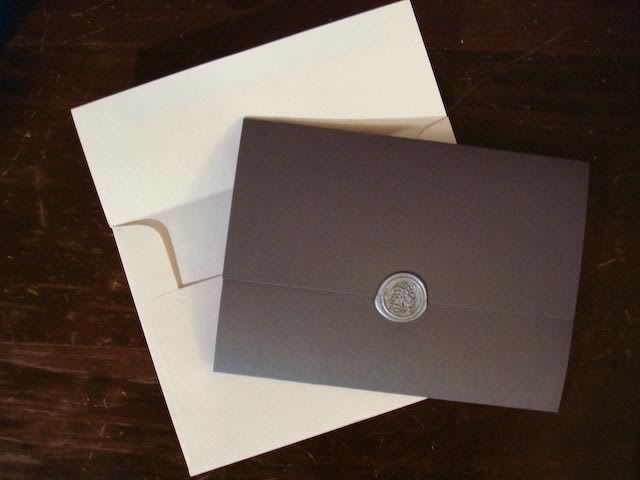 And here is the outside of the pocketfold. We made these from custom-cut paper from Anchor Paper. The paper has a linen texture, and is a lovely charcoal grey. Tom from Anchor Paper chose the paper for me based on what I described. I think he did well!



We sealed the flaps down with a wax seal of wedding bells (Aaron's choice - I really didn't care for any of the designs so he picked). I didn't burn myself once! We did all 50-60 flaps with one package of wax sticks.



So then you open it up, and here's the inside: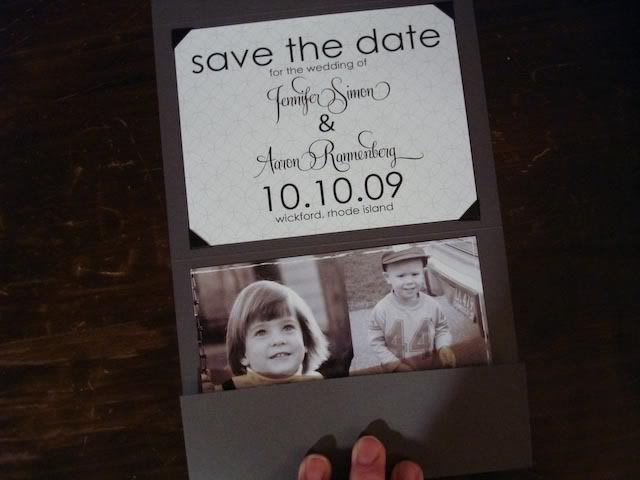 That's a magnet from Vistaprint at the top, held on with black photo corners. I didn't want to do magnets but Aaron thought they were the best idea ever, so....that's the other thing I let go. He loves me. Haha. The bottom card is a postcard (free from Vistaprint!) tucked into the bottom pocket. I took it out here:



If you flip over the postcard, the accommodations information is on the back. I designed the postcard and the magnet in Illustrator and Photoshop.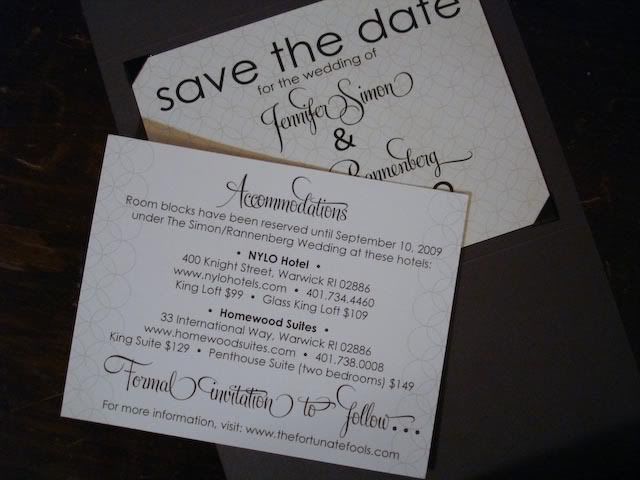 Closeup of the accommodations card. It has the same circle pattern as the magnet, but only on the edges. Fonts are Century Gothic and Feel Script. I liked the Feel Script but now I am thinking it's not formal enough and I want to maybe use Bickham Script. We are using the circles b/c it's a famous quilt pattern. Also, we like that quilts are passed down in families, like their own little scrapbooks. Aaron and I both are very close w/ our families, so we thought a quilt pattern would be cool. Right....right?? This pattern is called Wedding Rings. :-)



And the front of the card. My dad chose the pic of me. You can see my twin sister's hand in the lower left corner. I think he cropped her out of the photo. Apparently we never took photos separately. Aaron chose his own picture. Aaron made fun of my bangs. We were poor. My momma cut my hair.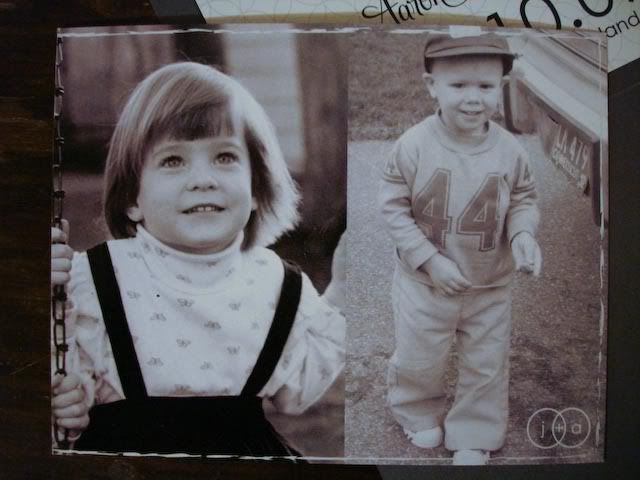 And finally, a wicked closeup of the little logo that was more of an accident than anything else. And I like it! I am thinking I might have this put onto the side of the cake, like a monogram? I will definitely try to incorporate it in somewhere else.



Sorry so long. I am chatty. They cost 59 cents to mail, but I got 62 cent stamps b/c they were prettier (dragonflies! Instead of some old guy wearing a Hawaiian lei!).

THANKS FOR LOOKING!!